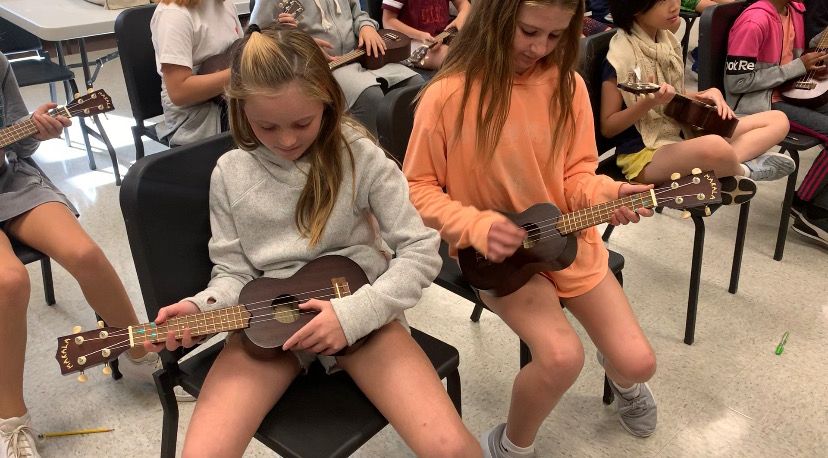 Thanks to a $2,500 grant from the Methacton Education Foundation, Skyview Upper Elementary School now has 35 ukuleles for its fifth- and sixth-grade music classes.
More than 700 students participate in Skyview's music program each year. Over time, every elementary student in the district will come through the school and get a chance to play the ukuleles, says Dave Bickle, the school's music teacher.
Bickle says he decided to incorporate ukuleles into his classes because he "was looking for a new kind of instrument to share with the students here." The ukuleles' small size and nylon strings make them especially good for young learners. The instruments are also excellent for students with muscular or learning challenges. Five ukuleles have been specially tuned and strung for use by differently-abled students.
The ukuleles arrived shortly before the current school year. Tuning them up took several weeks, and students have been using the instruments since mid-September.
"They love them," says Mr. Bickle.
Because ukuleles and similar stringed instruments are used all over the world, students will eventually end up learning not just jazz, blues, Johnny Cash songs and currently popular tunes like "Old Town Road," but also music from around the globe.
Most popular music requires knowing only three or four chords. Once students have achieved that, they can become active musicians, rather than just be passive listeners, and that gets "more of the brain involved," Mr. Bickle says. He adds, "It's great for finer muscle skills, and the development of kinesthetic learning."
Research shows that musical instruction helps the parts of the brain used in mathematics. Additionally, students learn about acoustics and the engineering of musical instruments.
By emphasizing creativity, communication and collaboration in the classroom, Skyview's ukulele program contains elements of the science, technology, engineering and mathematics (STEM) approach to education. Additionally, Mr. Bickle uses software to pull up songs and show students on a smartboard what notes to play.
Because of its connection to STEM education, and the inclusion of all district students, the ukulele program is an important part of what the education foundation is all about.
The program might not necessarily have gotten funding without the support of the foundation and its generous donors.
"We couldn't have done it without the Education Foundation," says Mr. Bickle.