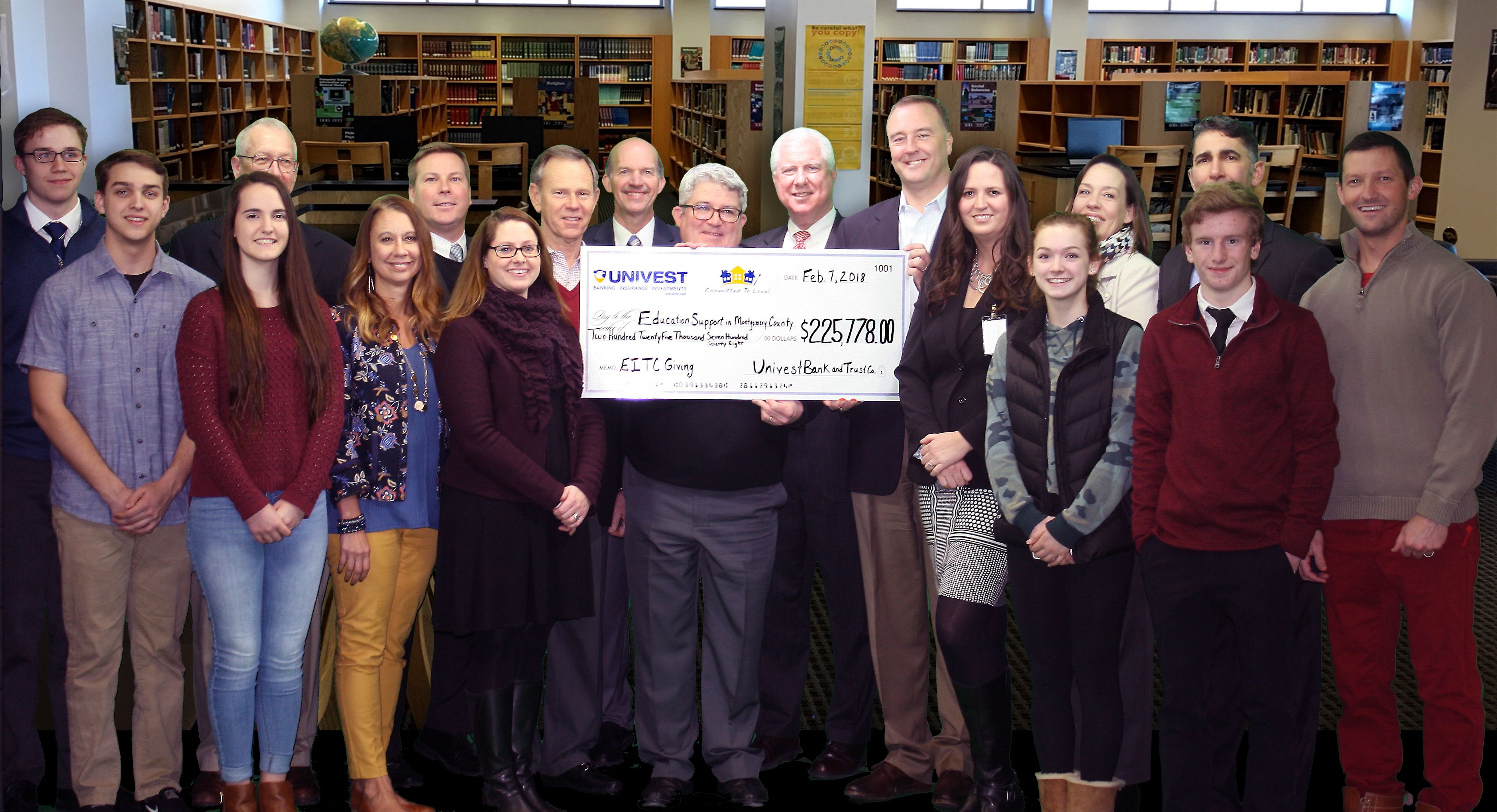 SOUDERTON, Pa., February 13, 2018 – Univest Corporation recently awarded $225,778 to nine educational organizations in Montgomery County that qualify for the Pennsylvania Educational Improvement Tax Credit (EITC) program. The donations will be used to support educational improvement programs and scholarships for kindergarten through 12th grades. Ultimately, these funds will provide public schools with innovative programming to enhance learning opportunities and allow private schools to offer need-based scholarships to give families the opportunity to provide a faith-based education that otherwise wouldn't be possible.
Supporting the local communities it serves is at the heart of Univest's corporate culture. It's Committed to Local philanthropic program includes corporate financial support, employee volunteerism and employee leadership through board and committee service. In 2017, Univest donated more than $1.8 million to 544 charitable organizations across its service area and 57% of those donations went directly to support youth and education. Additionally, Univest employees educated 4,578 students and community members through a variety of financial literacy programs and partnerships and volunteered 19,152 hours serving local nonprofits.
About Univest Corporation of Pennsylvania
Univest Corporation of Pennsylvania (UVSP), including its wholly-owned subsidiary Univest Bank and Trust Co., has approximately $4.6 billion in assets and $3.5 billion in assets under management and supervision through its Wealth Management lines of business as of December 31, 2017. Headquartered in Souderton, Pa. and founded in 1876, the Corporation and its subsidiaries provide a full range of financial solutions for individuals, businesses, municipalities and nonprofit organizations in the Mid-Atlantic Region. Univest delivers these services through a network of more than 50 offices in southeastern Pennsylvania extending to the Lehigh Valley and Lancaster, as well as in New Jersey and Maryland and online at www.univest.net.
Pictured are: Donald Beebe, senior administrator, Penn Christian Academy; Christine Liberaski, executive director, North Penn Educational Foundation; Dan Noble, president, Upper Moreland Educational Foundation; Kim Detwiler, senior vice president and director of corporate communications, Univest Corporation; Jim Beam, board president, Methacton Education Foundation; Bob Rutt, director of advancement, Dock Mennonite Academy; Frank Gallagher, superintendent, Souderton Area High School; Mike Fox, executive vice president, Univest Bank and Trust Co.; Jeff Schweitzer, president and CEO, Univest Corporation; Nikki Krelovich, executive director, Methacton Education Foundation; RuthE Potter, executive director, Indian Valley Education Foundation; Sam Varano, principal, Souderton Area High School; and Richard Curtis, technology education teacher, Souderton Area High School along with Souderton Area High School students. Not pictured: Representatives from Perkiomen Valley School District and Valley Forge Military Academy and College.