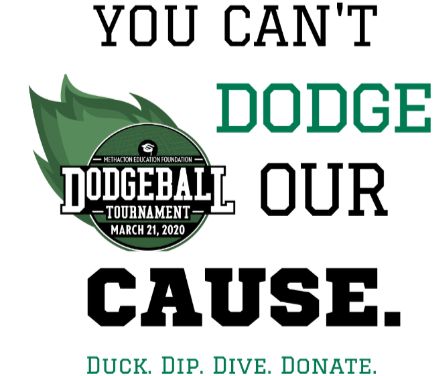 DATE: March 21, 2020
TIME: 12:00 p.m. - 4:00 p.m.
LOCATION: Methacton High School
COST: $150 per team to compete / $5 to observe
TEAMS: Students, staff, parents, and alumni
SPACE IS LIMITED!  FORM A TEAM TODAY! 
Students, alumni, parents, and staff...COME JOIN US for our first dodgeball tournament!   We need both teams and spectators in the stands to cheer on your favorite teams, players, and TEACHERS playing in the tournament!  We are planning a FUN-FILLED day with the Methacton community...don't miss it!
---
This event will help raise money to fund Methacton Education Foundation GRANTS for supporting STEM, programs that benefit economically disadvantaged students, career readiness, and student wellness for the Methacton School District!
Teams may be made up of 6-10 players and may be co-ed. Team name is required.  A creative or fun uniform is encouraged. At least 70% of your team members must be Methacton students, staff, parents, or alumni.
IMPORTANT: Teams will compete in similar divisions. Divisions are set by event organizers and are arranged by similar age/grade for safety and equity among teams.   When forming teams, keep the following age/grade guidelines in mind K-2nd grade, 3rd & 4th grade, 5th & 6th grade, 7th & 8th grade, 9th - 12th grade, and adults. For example, a child in 2nd grade will not be allowed to play on an adult team.  
Registrations will be accepted on a first-come, first serve basis.  Registration closes when full or by February 10th.
A player can only play on 1 team. Only team registrations are accepted, no individual registrations are permitted. A Team Captain will sign up and pay for the team, then the parents or guardian of each participant will have to complete a "Permission to Participate" form to play in the tournament.  Permission forms will be available mid-late January and will be posted on this site and sent to Team Captains to distribute to their team.
Prizes for Best Dressed Team, Best Team Name, and First Place Teams!
All teams receive free t-shirts!
Permission to Participate Form (COMING SOON)
dodgeball@methactonfoundation.org