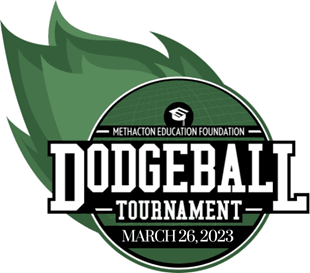 We are pleased to announce the Methacton Education Foundation Dodgeball Tournament on March 26,2023 located at the Methacton High School! The focus of this charity event is to bring the Methacton community together for a fun-filled day and to raise awareness and money for the Methacton Education Foundation.
Proceeds from the event will be used to fund grants within the Methacton School District supporting:
STEM (Science, Technology, Engineering, and Math)
Programs that Benefit Economically Disadvantaged Students
Career Readiness
Student Wellness
Registrations will be accepted on a first-come, first-serve basis. Registration closes when all tournament slots are filled.
To register, Team Captain pays $150 and registers the team name and player #1. Once payment is made, other players on the team must register individually and select the team name chosen by the Team Captain. Min 6 players per team. Maximum 10 players per team.
Thank You Dodgeball Sponsors
Thank You Dodgeball Sponsors