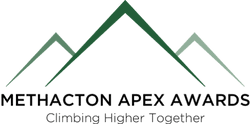 Know someone in the Methacton community who deserves recognition?
We need your help to identify those in our greater Methacton community who you think are deserving of a 2022 APEX award.  Community members, Alumni, Methacton employees, student teams or clubs, or businesses will all be considered by our nomination review committee to be honored with an APEX award.
There are so many in our community who do great work, bring recognition to our District, and provide their time, talent and treasure for the students of Methacton.  Businesses who give back, individuals who support the students in many areas, student teams, groups or clubs, and Alumni who have achieved great success in their careers, having had their start in our District, will all be reviewed for consideration for an APEX Award.
Make your nomination today!  The more information you can provide with your submission, including but not limited to, sharing your information about the nominee, articles, websites or pictures supporting your submission, the better it is for our review committee.
NOMINATIONS ARE OPEN UNTIL APRIL 19, 2022!

 
The Apex Award is a permanent mark of distinction for those who made extraordinary impacts on the school district community, and we need your help to select our 2022 class of inductees.
---
NOTE: Individuals who are currently seeking political office or are currently in a political position will NOT be considered for awards. 
All submissions are final and cannot be changed.
Contact apex@methactonfoundation.org with any questions.